Split Rock Standard Poodles
All of our Standard Poodle puppies have gone to their new homes. This is our last litter of Standard Poodle puppies. We will continue to offer toy and miniature Poodle puppies.
On August 31, 2018, Savannah Rose, our gorgeous silver beige (light silvery brown) standard poodle whelped a litter of 9 beautiful puppies. She had 6 males and 3 females. There are 4 black/blue/silver males and 2 brown/silver beige males. There are 2 black/blue/silver females and 1 brown/silver beige female. I will know better what color these puppies will be once I've shaved faces and feet when they're a couple of weeks old. The blacks could fade/clear to blue or silver and the browns could fade/clear to cafe au lait or silver beige (both are light brown). The entire litter is "abstract" due to their sire being a parti poodle. Abstract means that each puppy has a splash of white on their chest and/or neck/chin and some have white on their paw(s).
Here is Lady Savannah Rose of Split Rock, the dam of this litter (photo taken before she was recently clipped short for her summer haircut - she has faded to silver beige, a light silvery brown)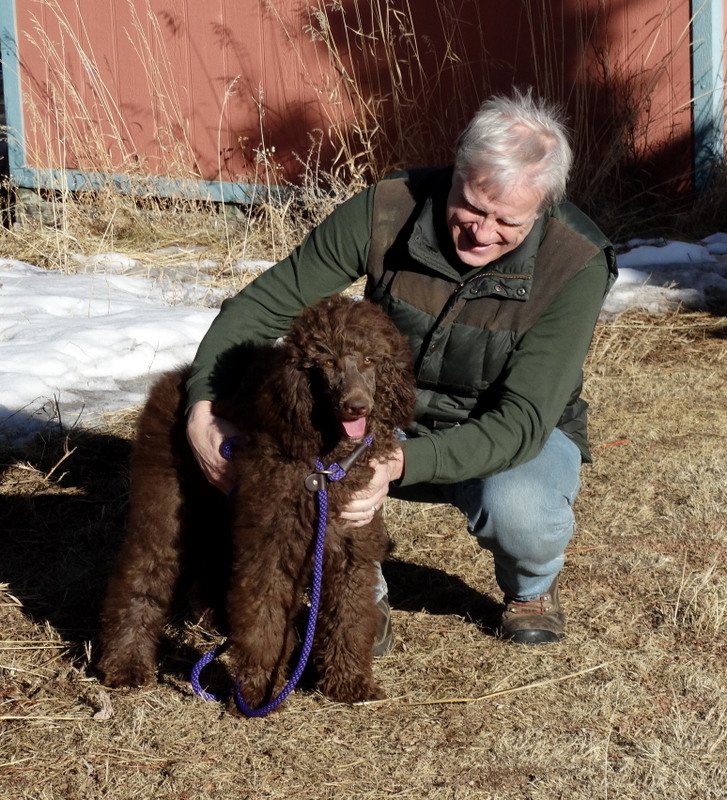 Here is Split Rock Wizard's Lightning Bolt aka Harry Potter, the sire to this litter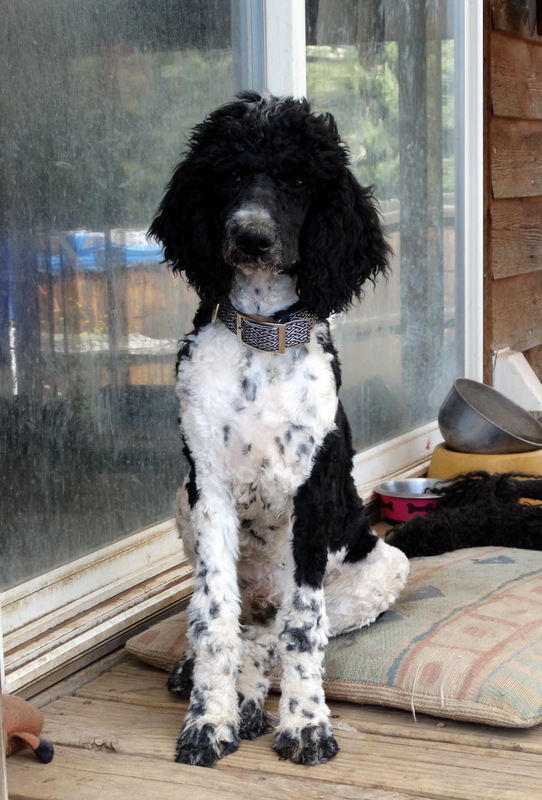 Puppies are priced at $950 for females and $750 for males - AKC Limited Registration - no breeding rights
Here is a list of the puppies:
Aqua Collar Male - Black Abstract - white on his chest and chin
SOLD
This male is one of the larger puppies and should be a larger adult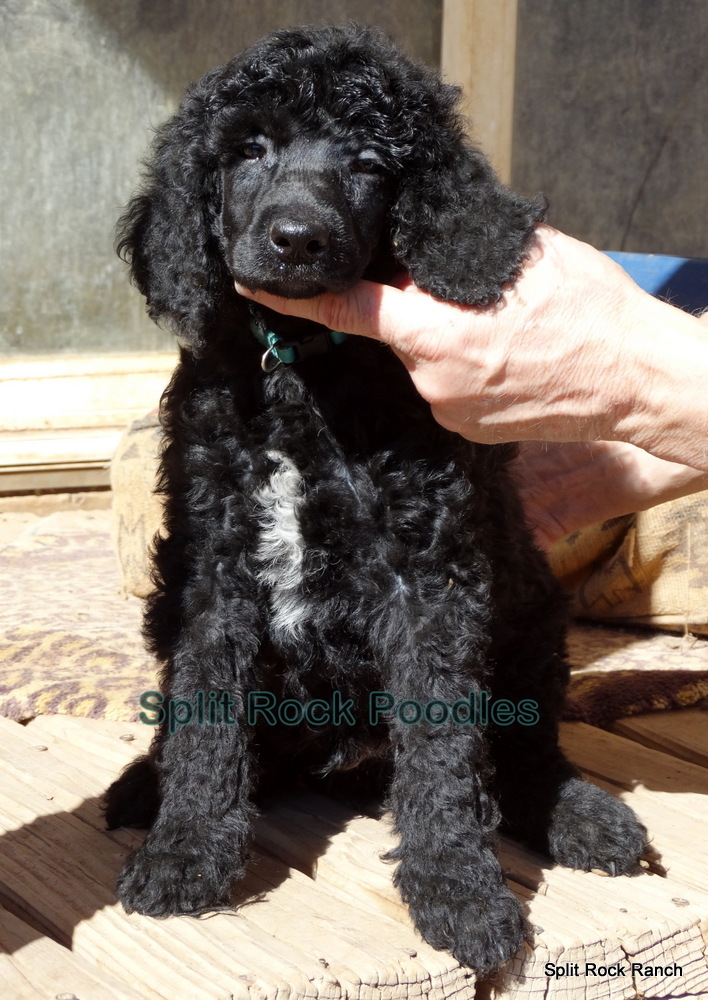 Black Collar Male - Brown Abstract - Snip of white on his chest and a back toe - darker brown - SOLD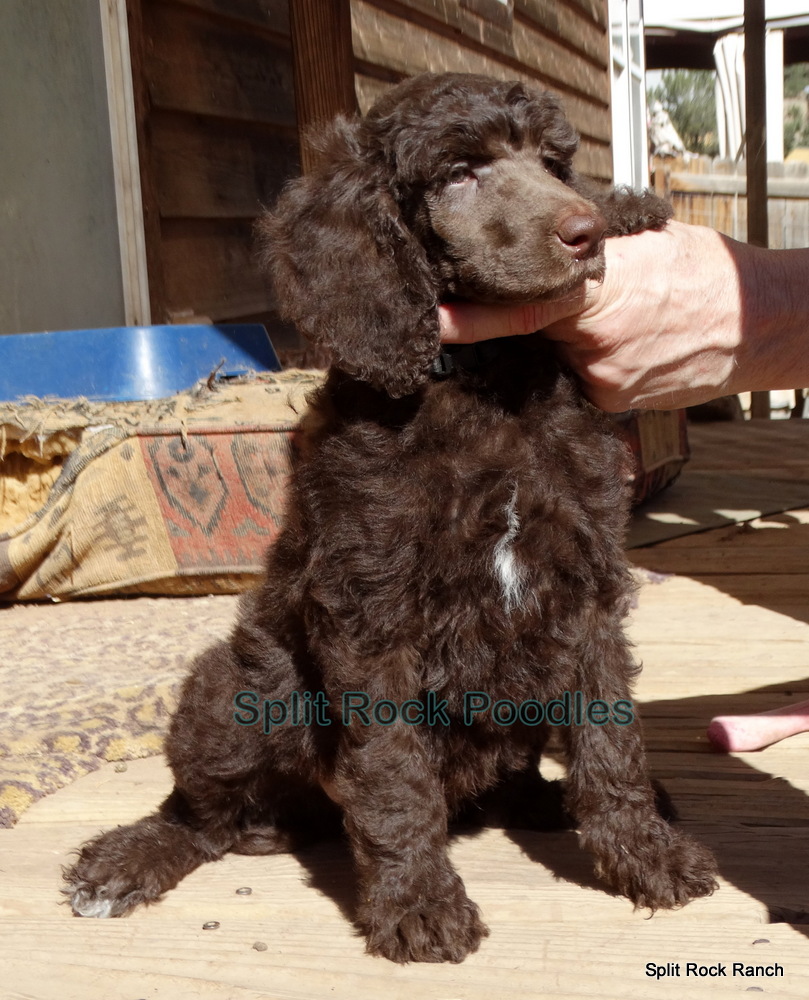 Blue Collar Male - Black Abstract - Tiny snip of white on his chest and a back toe - This boy is extremely friendly and people oriented. He may fade to blue. I'm not seeing silver but he is lighter than the other black puppies in the litter. - SOLD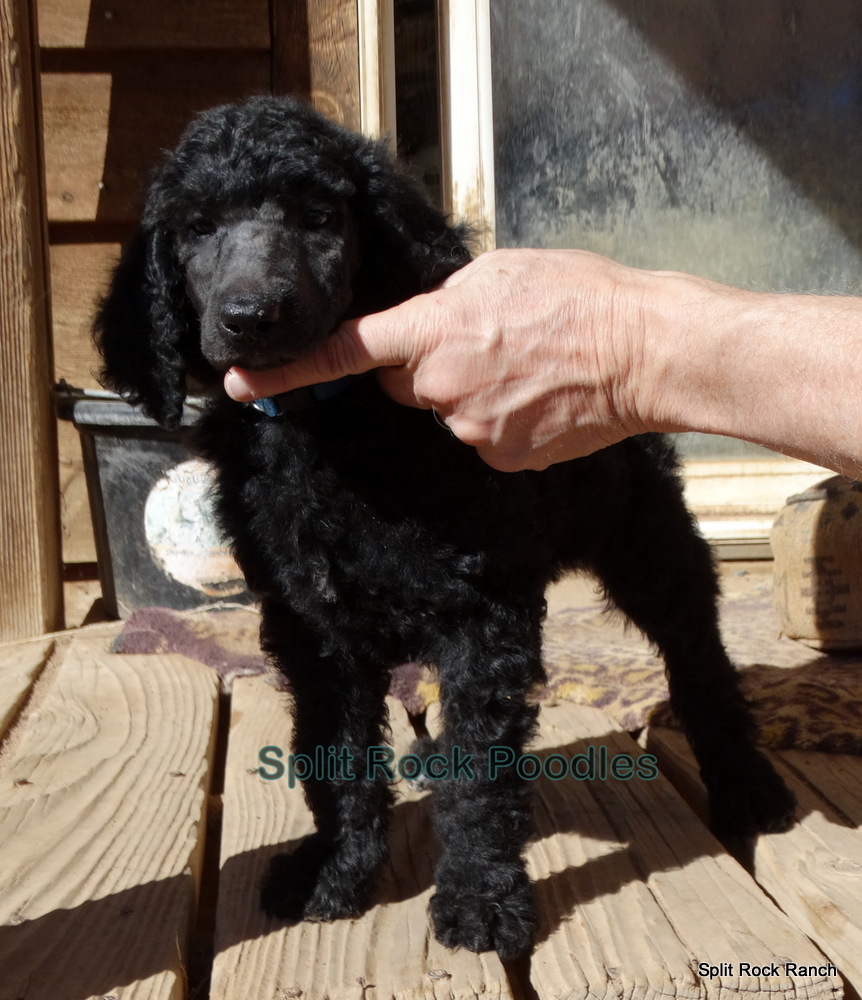 Burgundy Collar Male - Brown Abstract - White on his chest and all four feet - SOLD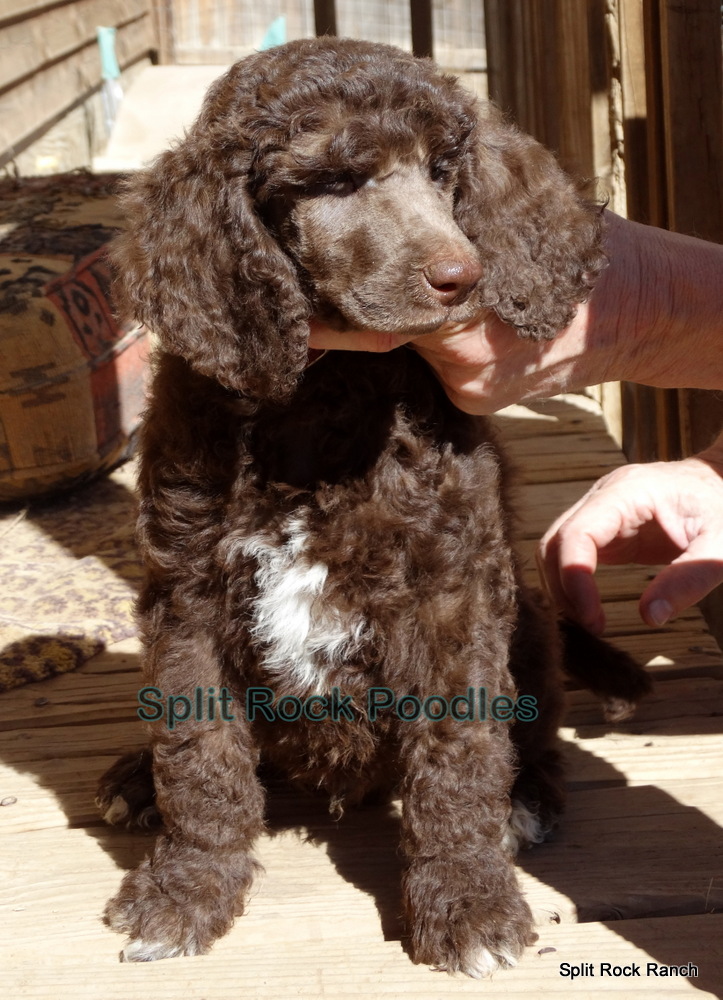 Orchid Collar Male - Black Abstract - White on his chin, neck, chest, all four paws and the tip of his tail - Super friendly and people oriented. Extremely smart - first one to figure out how to open the baby gates to get out! Gorgous markings. Should stay black.
SOLD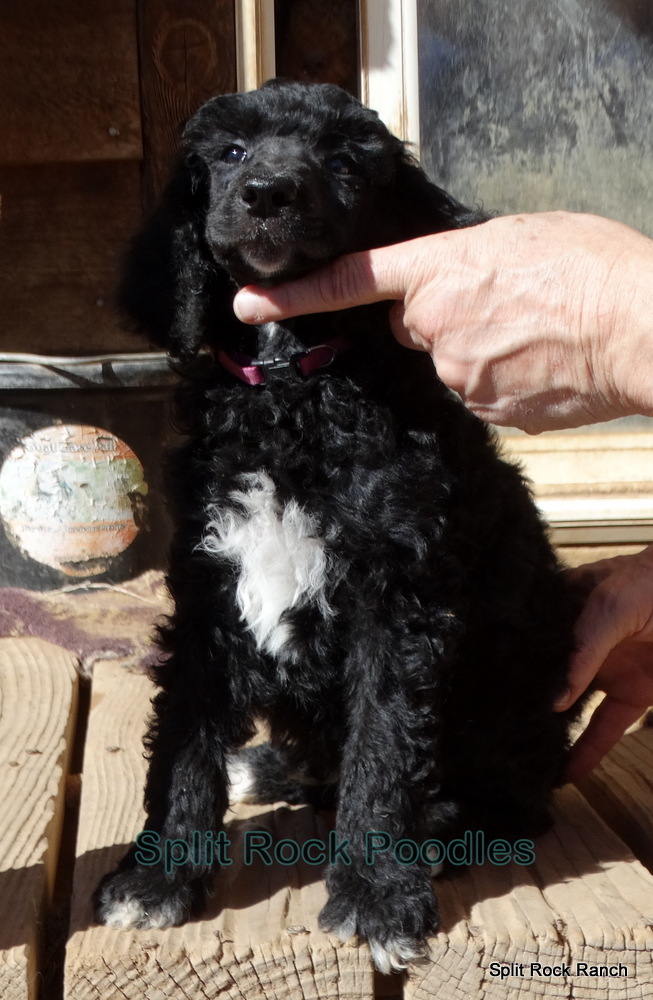 Orchid Collar Female - Brown Abstract - Very dark brown with white on her chin, neck, chest and all four paws - Tiny Girl is the smallest puppy in the litter but she has an enormous heart - We believe she would make an excellent therapy dog - She is darker now than when she was younger so she should stay dark. It is rare to find a non-fading brown poodle! Extremely friendly and loves to snuggle. She may end up being more on the Moyen/Klein size - perhaps only 35 lbs when full grown.
SOLD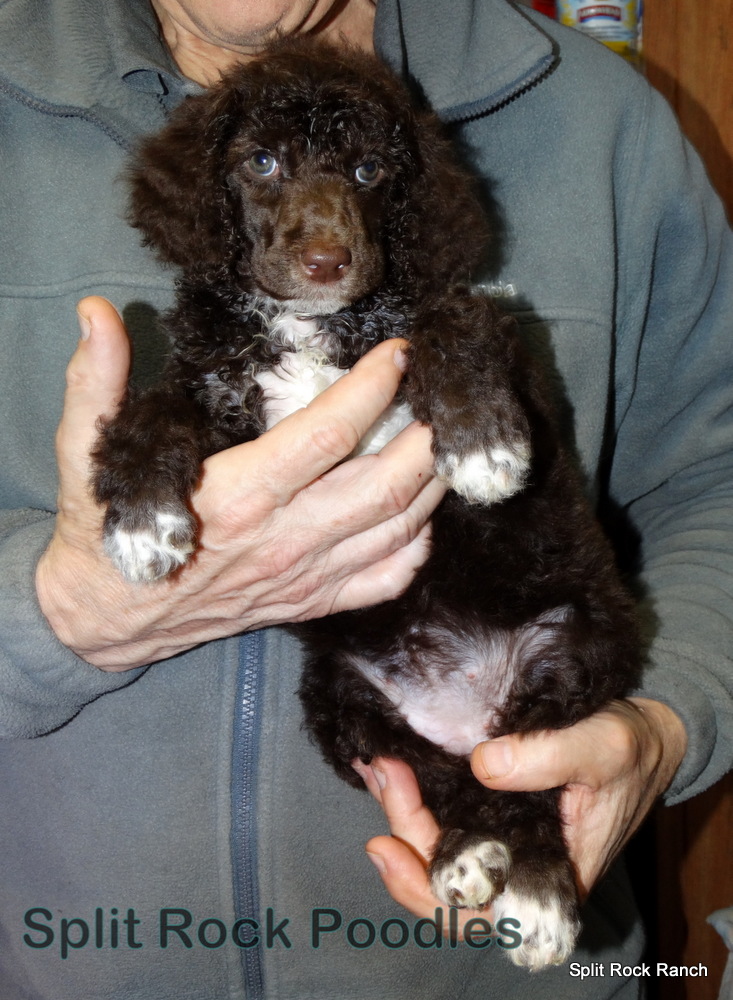 Pink Collar Female - Black Abstract - Snip of white on her chin and chest - SOLD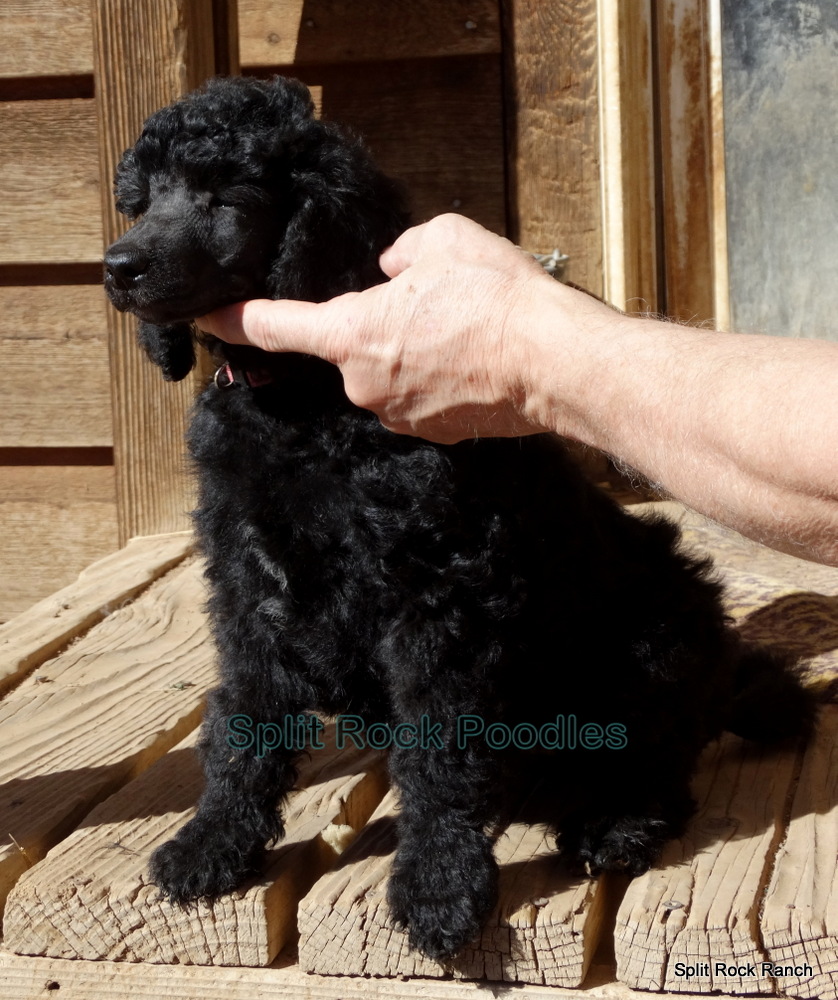 Red Collar Male - Black Abstract - White on his chin, neck, chest and 1 back paw - He's another one of the larger males in the litter. Gorgeous markings. Should stay black.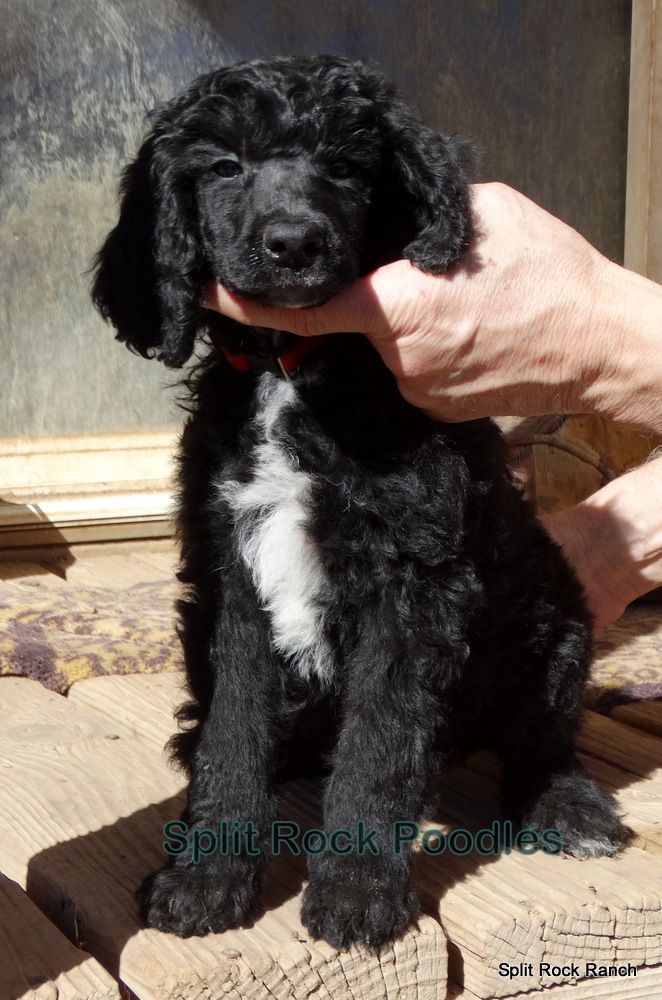 Red Collar Female (formerly Teal Collar) - Black Abstract - Snip of white on chest - Very calm and people oriented. Loves to stay indoors and play with Tiny Girl when the boys go outside to play. Should stay black.
SOLD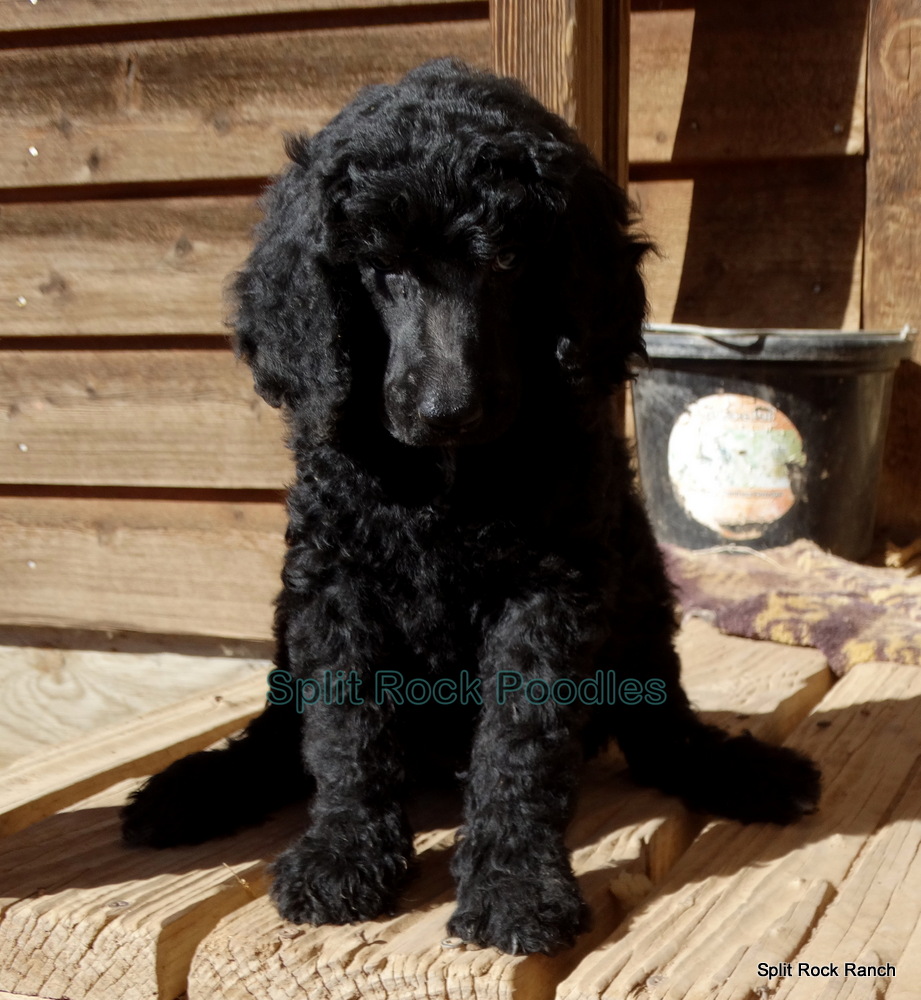 All puppies are sold with AKC limited registration as pets. AKC full registration to approved show homes or breeders is available for an additional fee.
All puppies have natural tails and dew claws. We no longer dock tails on our puppies. It is an elective surgery that has inherent risks and is essentially amputation of the tail and "thumbs".
We follow Dr. Jean Dodd's vaccination protocol so puppies do not receive their first vaccination until they are 9 to 10 weeks old. Dr. Dodd used to advocate no vaccines until 16 weeks of age but has adjusted her protocol. Additional research shows that vaccinating between 12 to 16 weeks of age gives a puppy lifetime immunity. So, we are letting new owners make the decision on vaccination with their vet's guidance and are not administering vaccines unless the puppies are at least 12 weeks old. Rather than over-vaccinate, do ONE vaccine between 12 to 16 weeks of age and then run titers to test immunity.

If you'd like to see a 5 generation color pedigree, click on this link: http://poodledata.org/xxfivegen.asp?ID=482935&type=color
Please contact me via email at brenda.vance@splitrockllamas.com for additional information
We do accept PayPal for payment. A non-refundable $250 deposit will hold your puppy until delivery! Deposits are applied to the purchase price of the puppy. We prefer cash if PayPal is not an option for payment. Personal checks are not accepted on the day of delivery. Contact me to discuss payment options.
I will not ship these puppies via air shipping. I will travel within 4 hours one way from our home in Florissant, CO to meet you to deliver your puppy. We just ask that you help cover our expenses (gas) if we have to drive more than 50 miles to meet you. We cannot be away from our ranch for more than a few hours during the day due to animals we have here on the ranch that require special care that I cannot trust to anyone else. Puppies must be paid for in full before delivery.
The puppies are now ready to go to their new homes. We will hold your puppy with a non-refundable $250 deposit for one week without additional fees. This allows you to get all set up for your new puppy if you need that time. Or you can take your puppy home when paying the full purchase price. Additional days after the first week incur boarding fees and the new owner is responsible for any and all vet bills that might be incurred while still in our possession. Because of the upcoming holidays, some people are asking if we can keep their puppy until after Thanksgiving. We're happy to do that so that your puppy isn't left home alone while you travel!