Split Rock Standard Poodles
All of our puppies have found their furever homes and families. Congratulations and thank you to the new families.
Check back next summer to see if we have another litter!
On July 10, 2017, Savannah Rose, our gorgeous silver beige (light brown) standard poodle whelped a litter of 7 beautiful puppies. She had 5 males and 2 females. There are 2 black/blue/silver males and 3 brown/silver beige males. There is one black/blue/silver female and 1 brown/silver beige female. I will know better what color these puppies will be once I've shaved faces and feet when they're a couple of weeks old. The blacks could fade/clear to blue or silver and the browns could fade/clear to cafe au lait or silver beige (both are light brown). The entire litter is "abstract" due to their sire being a parti poodle. Abstract means that each puppy has a splash of white on their chest and some have white on their paw(s).
Here is Lady Savannah Rose of Split Rock, the dam of this litter (photo taken before she was recently clipped short for her summer haircut - she has faded to silver beige, a light silvery brown)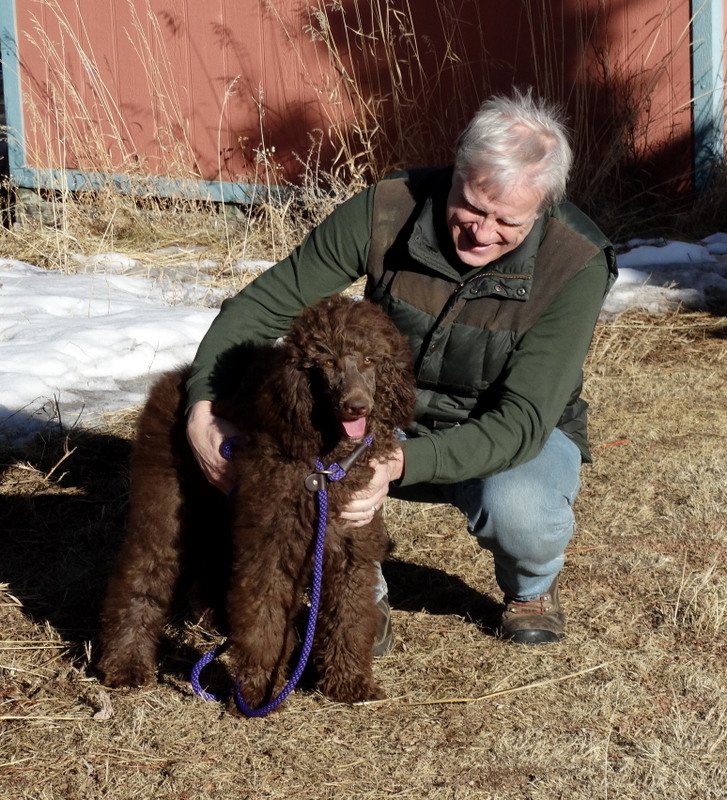 Here is Split Rock Wizard's Lightning Bolt aka Harry Potter, the sire to this litter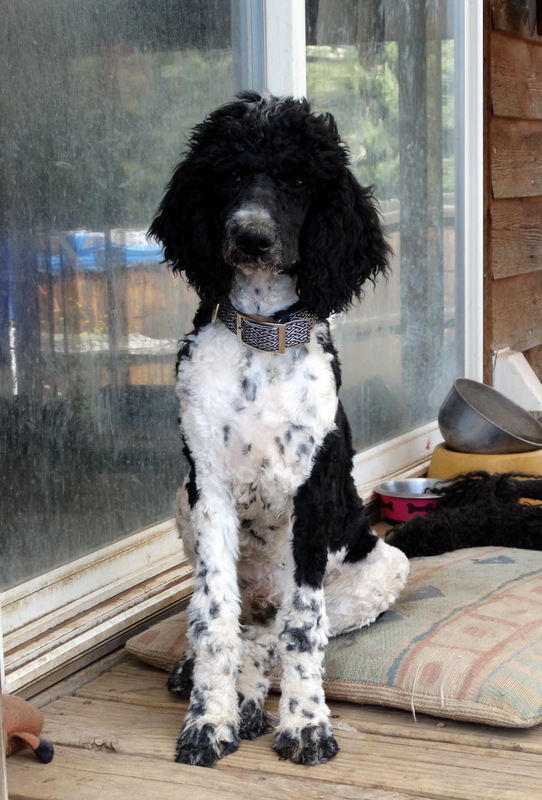 Here are the puppies - only complete or partial litter photos available right now - I will post individual photos once I get them taken. Savannah is a very protective momma so we're letting her chill out a bit before we start messing with the puppies. The first two photos are right after she finished delivering the last of the puppies.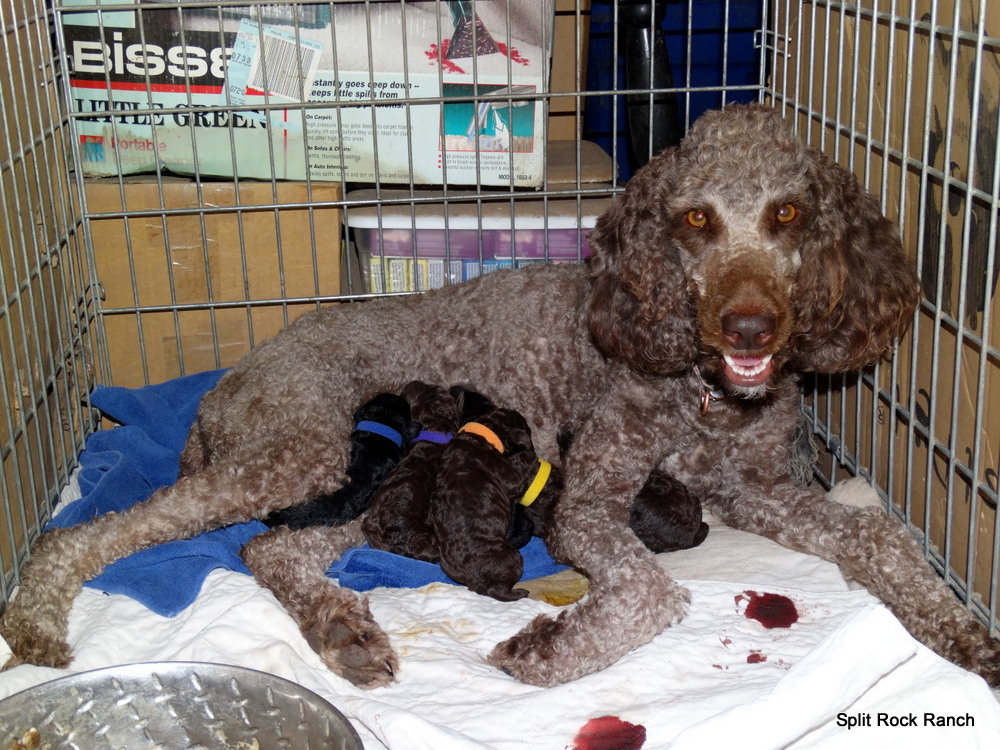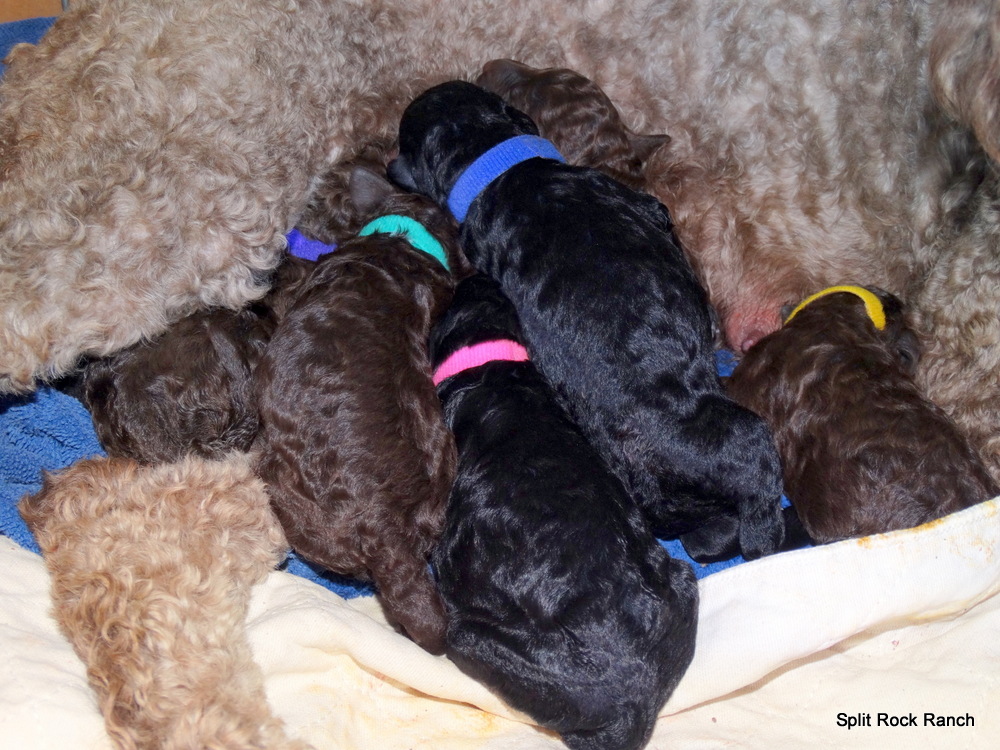 Here are the puppies the day after they were born (it appears that they're all in a milk coma...)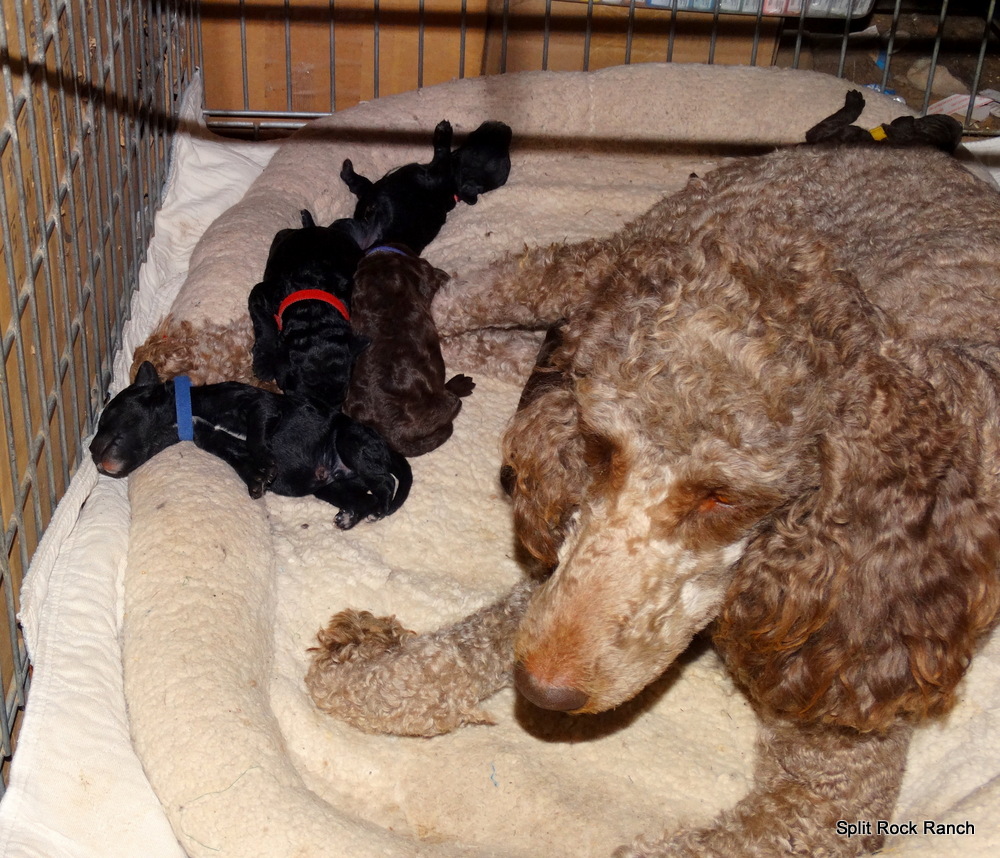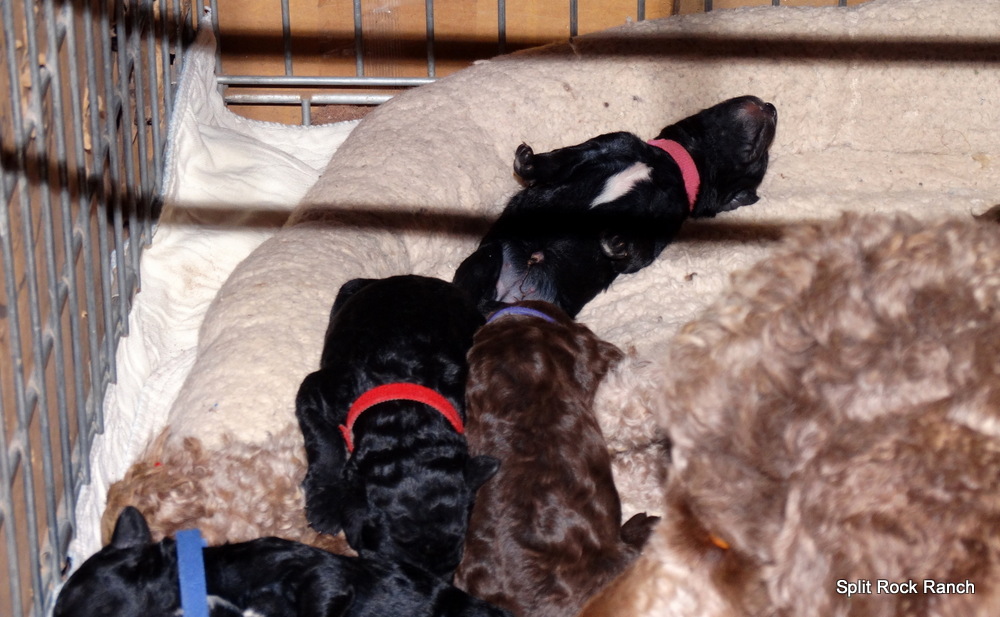 Here is a list of the puppies:
Phoenix - Red Collar Male - Black Abstract - On HOLD for Jessica B - Deposit received
Hercules - Yellow Collar Male - Brown Abstract - SOLD - Congratulations and thank you Kathi W
Aries - Aqua Collar Male - Brown Abstract - $800 - On HOLD for Heather - Deposit received
Gemini - Blue Collar Male - Black Abstract - $800 - On HOLD for Susan
Orion - Orange Collar Male - Brown Abstract - $800 - On HOLD for Stephanie - Deposit received
Cassiopeia - Pink Collar Female - Black Abstract - SOLD - Congratulations and thank you Jillian & Tim K
Libra - Purple Collar Female - Brown Abstract - Not Available
All puppies are sold with AKC limited registration as pets. AKC full registration to approved show homes or breeders is available for an additional fee.

If you'd like to see a 5 generation color pedigree, click on this link: http://poodledata.org/xxfivegen.asp?ID=482935&type=color
Video taken at 4 weeks old: https://www.youtube.com/watch?v=kjSsqbq_Vj0
Please contact me via email at brenda.vance@splitrockllamas.com for additional information
We do accept PayPal for payment. A 25% deposit will hold your puppy until they are ready to go to their new furever homes when they are 8 weeks old - which just happens to fall on Labor Day! We prefer certified funds if PayPal is not an option for payment. Contact me to discuss payment options.
I will not ship these puppies via air shipping. I will travel within 4 to 6 hours one way from our home in Florissant, CO to meet you to deliver your puppy. We cannot be away from our ranch for more than a few hours during the day due to animals we have here on the ranch that require special care that I cannot trust to anyone else. I also have someone who is willing to travel to deliver pups or to meet new owners so options can be discussed and arrangements can be made - we just have to connect and hash it all out. Puppies must be paid for in full before delivery.
Tails have been docked to 3/4 length (this means only 1/4 of the tail was docked) and dew claws were removed on 7/13/17.